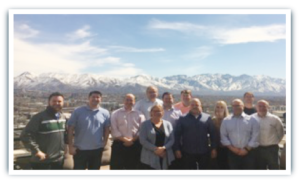 Globally, SolutionTech covers and has covered Production and Operations events including, but not limited to, Aerospace Products, Medical Devices, Body Armor, the Harvesting of Mushrooms, manufacturing of Fish Oil Supplements, RVs, Paper Pulp & Recycling, and dozens of other Manufactured Products.
---
To Date; SolutionTech has…
Three full-time and three part-time team members.
Completed a combined 575 Kaizen Events.
Trained over 1500 employees from different organizations around the globe in Kaizens Events and Continuous Improvement Strategies.
Completed Kaizen Events in 29 States in the USA.
Also completed Kaizen Events in 11 countries including Europe, Mexico and Canada and various countries in the Middle East and South America.
Has completed Kaizen just about anywhere.  ie; at the depth of 5,800 feet for the mining industry, or even 40 miles off the coast of Trinidad in the Caribbean Sea for the oil and gas industry.
Employees that routinely are speakers at various Continuous Improvement and Engineering Conferences.
Saved clients an estimated $85M by implementing sustained Lean System strategies since the company's inception.
Saved $4M in Chemical Engineering design and fluid flow/waste reduction improvement processes.
Lean implementation and Kaizen Events that are much more than just "Manufacturing and Production." SolutionTech has completed Kaizen Events for Back Office Processes including Month End Closing, AP & AR, Sales and Onboarding, Due Diligence and Compliance processes.
Earned BOSIET, (including HUET and EBS) OPITO approved.
Ready to find out more?
Drop us a line today, let's find your solution!